Book Tickets
The Silver Uberglee
March 13, 2019 @ 8:00 pm

-

10:00 pm

£20
THE SILVER UBERGLEE
The Comedy Box 25th Anniversary Show with MARK WATSON and JOHN ROBINS plus GUESTS
The Comedy Box is a Bristol institution, or that's what we like to think.
We tentatively launched at the Mauretania pub on Park Street in Bristol city centre on March 9, 1994 and ran a twelve week trial season on Wednesday nights. It was an instant hit and we packed out the back room of this historic Bristol hostelry.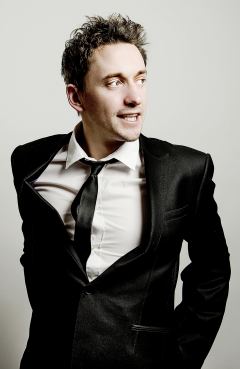 After a self-imposed summer break we set about programming the autumn season but (horror of horrors) we discovered the Mauretania had closed suddenly without warning. It was announced on the front page of the Bristol Evening Post and this is the first we heard about it one week before we were due to relaunch. This is true.
The Comedy Box quickly and dramatically found a new venue at the Bristol Flyer on Gloucester Road and this is where we settled for six years before this pub was confronted with a total refurb and new owners who didn't like stand-up comedy.
But, in the meantime, on March 12 1998, we had also set up a companion venue at the Hen & Chicken in Southville/ Bedminster/ South Of The River or whatever. This pub was  famous for football fans, pool players and other types of men. The first couple of years here were fraught with difficulties – one being that comedy punters were reluctant to walk into a pub notorious for fighting and much less known for live stand-up.
Two decades later we are still resident at the Hen & Chicken which has had a major internal facelift in the intervening years and is now more popular with ale consuming, latte drinking, gourmet pizza eating hipsters – our kind of crowd.
Those early years saw the likes of Peter Kay, Dara O'Briain, Ed Byrne, Jimmy Carr, Milton Jones, Bill Bailey, Lee Mack, Al Murray The Pub Landlord take to the stage. Ten years ago it was the turn of Russell Howard, Jon Richardson, Reginald D Hunter, Sara Millican, Rhod Gilbert and Micky Flanagan to become the household names. In recent years the new darlings of comedy are now Katherine Ryan, Joe Lycett, Sara Pascoe, Tom Allen and Ellie Taylor. All have passed through what is now called the Hen & Chicken Studio – a distinctly high grade venue with an undeniable reputation on the UK comedy circuit.
The Silver UberGlee show (geddit?) is our celebration of the success of all these acts and our very small contribution to that success. We have invited the brilliant Mark Watson and John Robins, who have been with us since their early days, to appear on this momentous occasion. More acts will be joining the line-up but if you're keen to attend this historic event you are strongly advised to grab your tickets asap before these acts are announced because we anticipate tickets won't be available for long.
Tickets: £20
Book Tickets